Don't be offended, this is just my opinion (just a tiny one in a sea of gazillions of opinions out there) but people who spend the whole of January moaning and wallowing in the doldrums are really irritating me this year. I have to admit that annoyance may well be due to the fact that I have personally decided to make a departure from my usual January blues.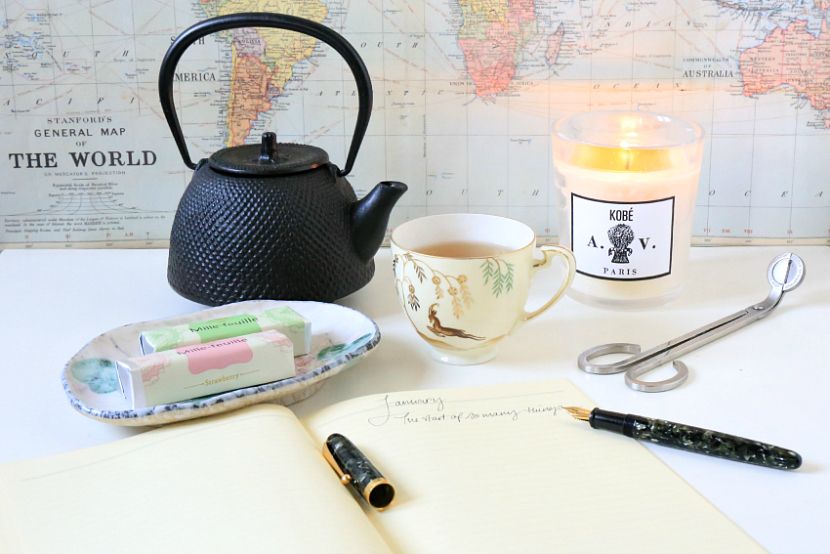 Cast iron teapot was a gift. Teacup is a vintage find by Noritake.
Candle from Astier de Villatte. Candlewick trimmer from Dipytque.
Confectionery dish from Japan. Mille-feuille from Japan.
Fountain pen was handmade see more HERE


I decided to my that that in the same way that I would not want to start a new notebook with a page of negativity, I do not want to the start a whole new year that way either.


Yes January is a bit tough in the wake of the festivities. Pockets are a bit tighter. The skies (in London at least) are a good bit gloomier. But so what? It's hardly a surprise, it is the same year in year out no? January is the gateway to an entire new year. The possibilities, the hopes and the dream should be bubbling up inside us and making us shimmer with the excitement instead of withering in the dumps.

This year, I am going to do myself a big favour and see out this month as I mean to go on! Clear my mind and just shine.