My stationery finickiness makes for baffled faces when I start talking about it. I have got used to it now. It's got to the stage where the stationery sales man at my office job avoids me incase I ask for yet another thing that he has never heard of and is certain does not exist. Take my highlighter demands for instance.

I wonder why western highlighter pens are all so chunky? They take up more room than necessary and they are rather cumbersome in the hand.

For this reason, highlighter pens regularly appear on my stationery shopping list when I am in Japan. I know you must think I am off my shopping trolly but seriously! There is so much more choice out there. Here is a speedy run through some of my favourites: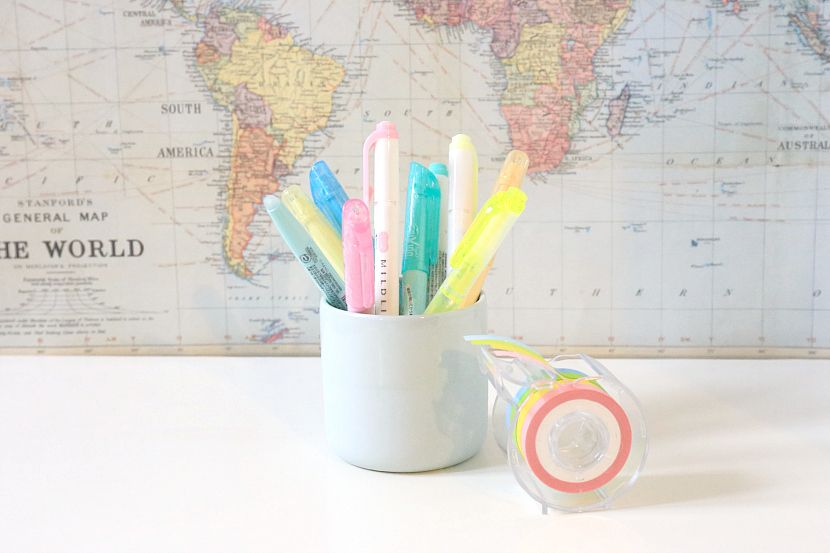 | Pilot Frixion Soft |
Pastel colour erasable highlighters. So cool! Highlighted the wrong thing? Frixion's amazing technology allows you to erase any trace of your error.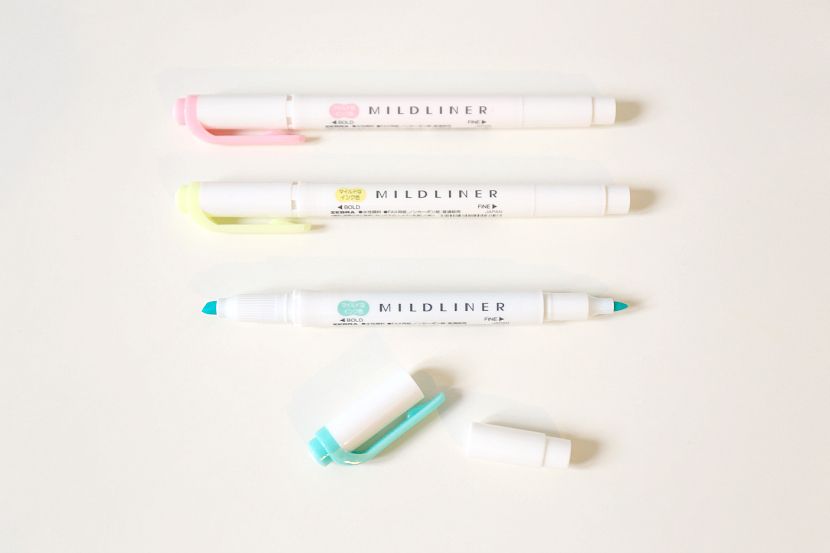 | Zebra Mildliner |
Like the Frixion Soft pens, these pastel shades are easy on the eye which I greatly appreciate. They are double ended for for highliting with one end and underlining with the other. Of course this functionality allows for great shading and doodling too. The Mildliners come in shades that you would not even think of using as a highlighter, like grey. Take a look HERE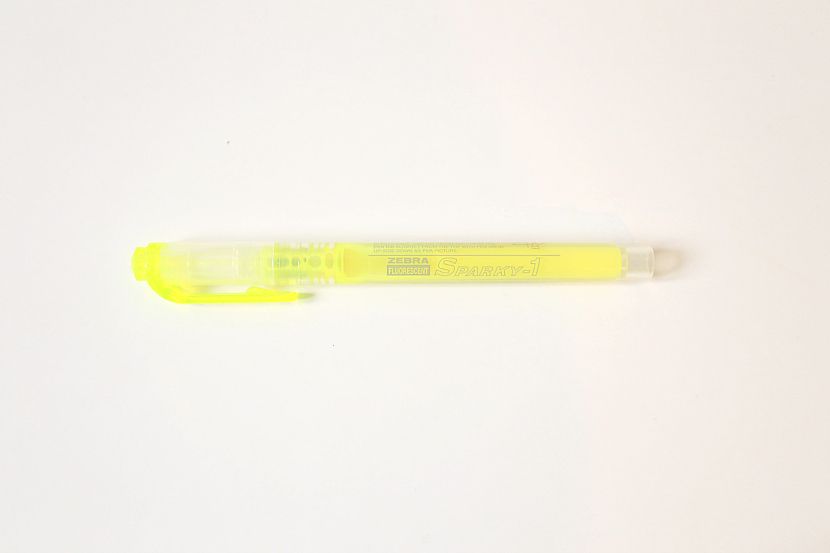 | Zebra Sparky 1 |
Shockingly bright for when my softer highlighters won't do. The smoothest of the bunch with a fluid seamless ink flow.

Left to right: Frixion, Mildliner, Sparky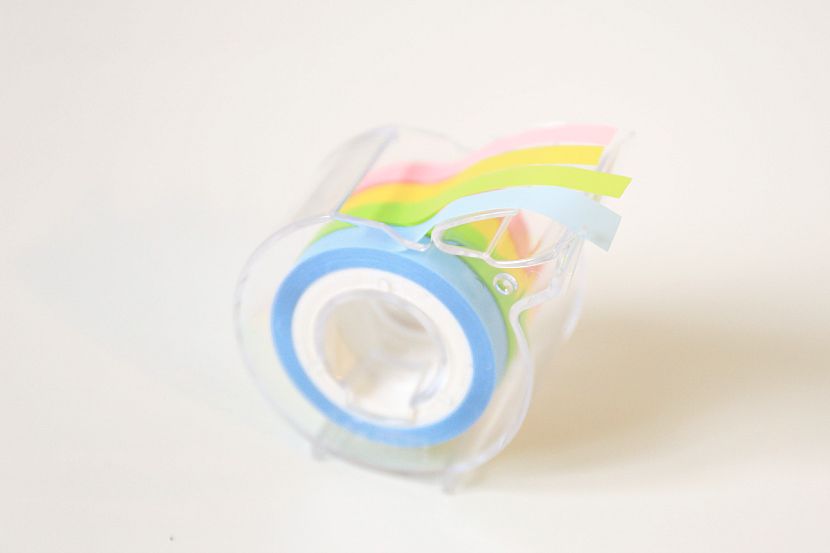 | Yamato Memoc Roll Tape |
Basically this is a highlighting tape. It is removable, semitransparent and great for use on documents or precious books. I bought this at my favourite stationery shop in London: Choosing Keeping.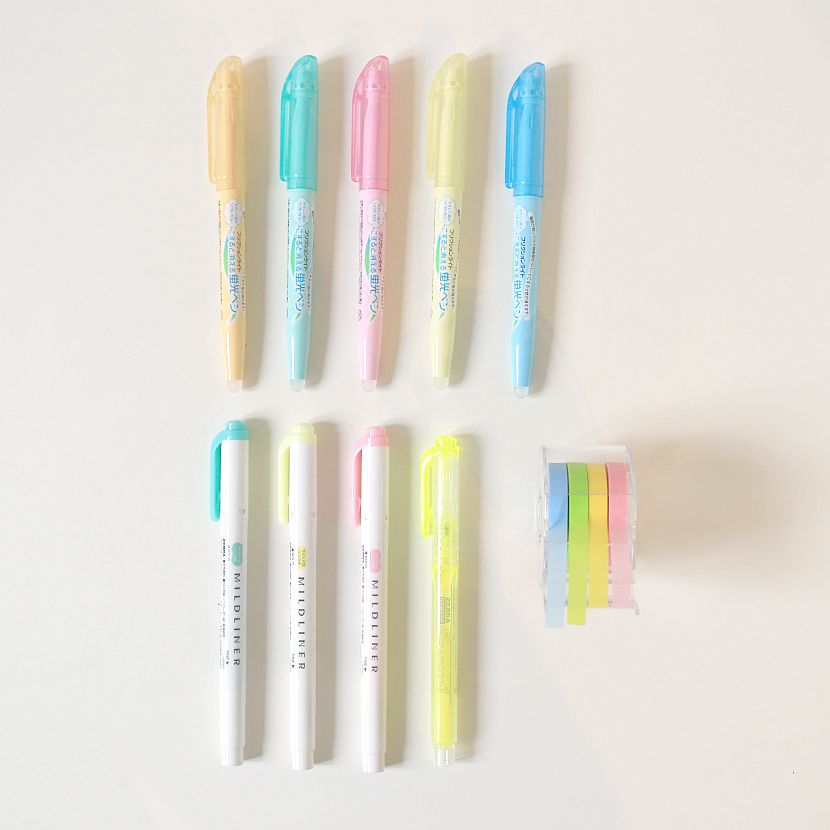 Of the three sorts of pens that I have, the Pilot pens are a bit dryer and the shades a bit duskier. Conversely the Zebra pens are wetter and the pastels have a whiter tone to them.
* Correction! The last swatch is Zebra Mildliner not Sparky.


In case you are wondering what I use all these highlighters for, I can tell you that they plenty of use in the following pursuits:


– Dressmaking – so handy when tracing Japanese dress patterns, the sort that come within a book. If you have never seen what these look like, then trust me, it's enough to give you a headache! They are printed one on top of the other like a massive brain hurting puzzle. Also great for making important bits on normal patterns too.


– Reading – for my personal notes and books too.


– Journalling – Colouring in and marking the important stuff.


– Work – proof reading all those fun work documents. I find that standard highlighters give me a headache after a while so the softer colours have become invaluable in my office.
Most of these pens were bought in Japan. They can also be found on eBay, Jet Pens and Cult Pens too.