I am all about tights!
I wear them almost throughout the year.
I cannot get enough of them!
Tabio 150 denier tights in white cream
But I am fussy! I only buy tights from a handful of places and at the very top of my list is Tabio. I often get questions and complements a plenty on my tights and my answer is pretty regular… "GO TO TABIO!"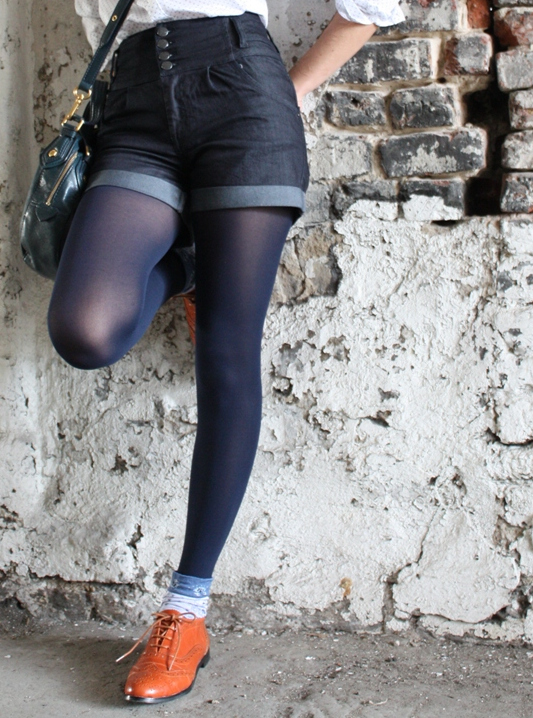 Tabio 80 denier tights in navy blue
I have been shopping at the Covent Garden branch for years and I am always delighted with the quality of the items that I buy. When it comes to tights I tend to mainly buy the 110, 150 and 210 denier options as they are ever so warm and comfortable and soft to touch. Tabio tights are not cheap in quality or price but once you invest you are rewarded with cherishable lasting items.

Tabio 150 denier tights in dark yellow
The people at Tabio are persnickety (in a good way) about their goodies. Their products are created using the traditions and rigorous standards associated with Japanese craftsmanship.
"The production process is highly sophisticated and undergo a series of meticulous tested to guarantee undisputable quality."
Tights are not my only obsession at with Tabio, their sock are mighty fine too though I shall leave showing you my collection for next time. I will be a loyal fan for as long as they keep churning out such appealing socks and tights and wot nots!

Image scanned from Tabio Collection 2010 catalogue
Psssssssssst! Of course, what now seem to be trademark cream tights ONLY come from Tabio.
x

Tabio 150 denier tights in white cream