This mind numbingly cold weekend saw us hop on the train and end up in Rotherhithe all because the super duper Catty from "The Catty Life" brought the Finnish Christmas Fair to my attention.


Loving the new East London Line.
I may not be a Finn but I go loopy for their treats, rye bread and not to mention design!

The fair was held at the Finnish Church which doesn't look like much from the outside.
But the interior is a very well considered space with clean lines and tastefully simple details.


Those Finns have a real flair for design and architecture, think Eero Saarinen, IIttala, Marimekko. One of my most favourite architect/designers is Alvar Aalto I think his work is just sublime! But I digress…..

The fair contained a little piece of Moomin heaven.

But I was there for the snackage. No one on this planet (or the universe I wager) does liquorice like the Finnish!! NO ONE!!

My stash: I go mad for liquorice! Especially Pantteri and Salmiakki(salty liquorice). I Got to try Malaco Must for the 1st time and it is so so so yummy.

I also bought some rye bread….delicious with cheese.

Finnish Karl Fazer chocolate is top drawer. I do not go crazy for chocolate in general but when in comes to Fazer chocolate then I tend to stuff my gob. I bought the Wiener Nougat on Catty's recommendation and I can happily report that it is 100% pure deliciousness.

Wiener (Vienna) Nougat is a mild and mellow somehow not too stupidly sweet almond praline.I wish I bought 2!

Also on sale were some wonderfully constructed handmade purses and other bits and bobs.

All in all, I had a great time at the Finnish Christmas Fair. I am of the opinion that no one does Christmas like the Finns! I am kicking myself that we didn't have time to stop for some grilled Rudolph (reindeer) bangers and Vodka!
We spent a large part of our afternoon frantically rushing about looking for wooly fings like jumpers and cardis to keep the cold away.


Wall display from the Vero Moda shop on Oxford Street.

Cosy Angora cardi Hiro bought me from Benetton

Hiro took me to the Nordic Bakery to make up for us missing out on cinnamon buns at the fair. The Nordic Bakery on Golden Square is the COSIEST place in the West End!! We are always charmed by the warmness of this place. The sweet smells of baking infused with tea and coffee and fruity jams together with the warm toasty air never fails to charm us.

The Nordic Bakery's take on the traditional Finnish Cinnamon bun is so delicious that my mouth waters as I type! They are buttery and soft on the inside and sticky on the outside. They are filling and go so well with a nice hot cuppa on a chilly day…..any day actually!

We also had a blueberry bun which was just wonderful. The thing that I love about Scandinavian jam is that it is never too sweet!

Nordic Bakery Soho
14a Golden Square
London W1F 9JG
The handy thing about the bakery is that it is right around the corner from our Japanese food shops! We needed to stock up on many essentials but we also go some treats for the festive hibernation:

Yukimi Daifuku or ice cream mochi. I grabbed a multi pack of mini vanilla, matcha and azuki flavours.

Also grabbed a bag of limited edition shoyu flavour Curl (Karu).
I dragged Hiro in the Japan Centre book shop on Brewer Street to have a nosey at the magazines. I don't go for the girly mags..they fill me with GRRRRRRRRRRRRRRR! Instead I buy SMART when they have freebies because they have the best freebies ever!

This time I got a stupendous BAPE vs STUSSY collaboration tote! Hiro wants this…..not getting it!

My beady eyes spotted some report worthy fragments that are worth sharing with you all:

Loving these Gold Diesel high tops. Unfortunately for me they are Shibuya exclusives.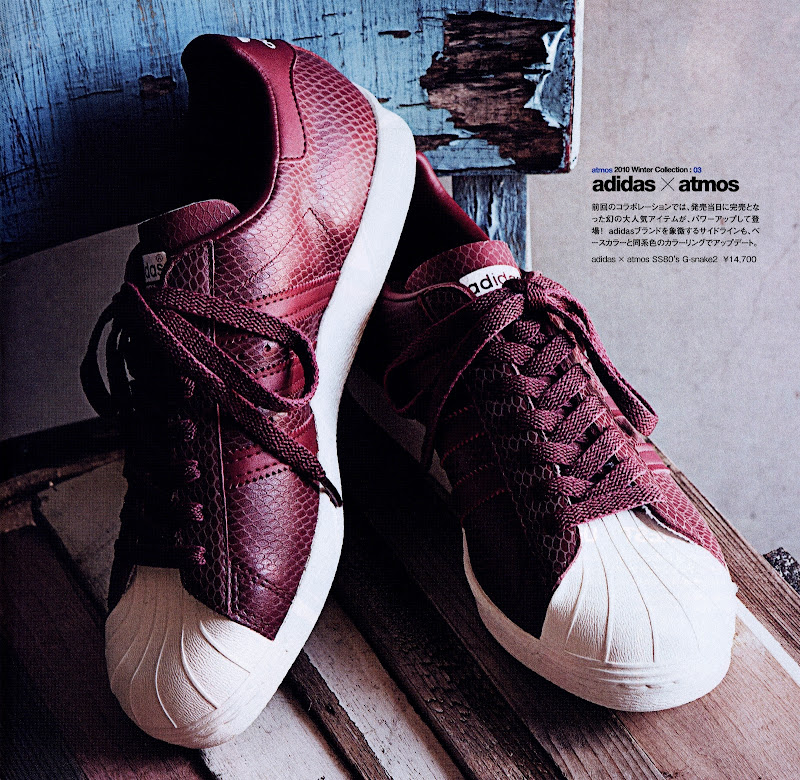 I can't help being an ADIDAS fan so these burgundy ATMOS collabo's caught by attention. See them here.

That bright spark NIGO has branched our from BAPE and has started up his HUMAN MADE brand. Good stuff! Take a look at the website here.

All the above were scanned from the Japanese mens mag SMART.
BORED YET? HOPE NOT!! ONLY BORING PEOPLE GET BORED!!!

Now I know that London doesn't realised that it is on the brink of peril according to the right brilliant Professor Hershel Layton but it is and I have been doing my best to save us from this malignant fate by tackling some rather tricky brain teasers on my DS. And I bet you all thought that I spent my Sunday sitting on my rump day dreaming and avoiding the chills?

I tried out my newly received Vienna Black Tulip sheet masks from My Beauty Diary. They are brilliant and I certainly going to order some more from Alphabeautyuk. Sheet masks are a god send during the winter and have thus far allowed my face to steer clear from the usual Sahara like dryness that I face at this time of year.

Finally, we made a stack, no HEAP of gyoza. I think that I may have folded up 50 of these.

Worth it in the end!
Was this post too long?
I am not sure where my weekend went!! It was over in a blink.
**I am collecting wonderful things for my New Years giveaway that will be go live this month…as always it is a Worship Blues Residents (followers) ONLY affair**