Carrying on from where I left off with my recommended fountain pens for newbies, here is the happiest pen about. Literally. Pilot's Kakuno pen with its smiley winking nib was created with school kids in mind but is just as brilliant as both a casual pen and an entry level pen too.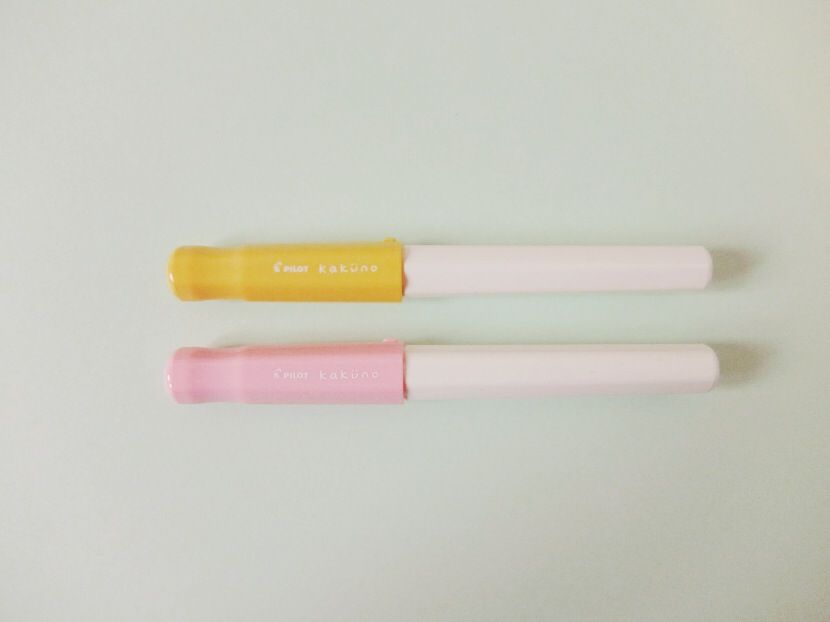 Here are a few thoughts about the Kakuno Fountain pen that might be helpful:
- Made of lightweight durable plastic and available in a either dark grey or white body with an assorted choice of coloured caps.
- Japanese steel nibs in a choice of medium or fine but as these are Japanese standard, they may be classed as fine and extra-fine.
- Gently faceted plastic grip section that encourages proper positioning of the pen. I find it more comfortable in my hand than the more angular Lamy Safari.
- Writes smoothly with a silky way of gliding across the page (comparable to more expensive Pilot Prera).
- Maintenance is simple as it comes apart easily for cleaning and the nib and grip section can be soaked in water for deep cleaning.
- Takes standard Pilot cartridges that are available in limited colours in UK but more shades can be found in Asia and USA. Also compatible with the Pilot CON-20 or CON-50 converter if you want to use bottled ink.
- The cap is ventilated for safety and hexagonal in shape to stop it from rolling away. No clip on the cap.
- The cutest fountain pen around! Great value for money. I paid about £6.00 per pen when I bought them in Japan earlier this year. They are available in UK via Cult Pens.
I love the simple clean design and low cost matched with reliable and slick performance and really believe that this pen will continue to gain fans across the globe. Definitely worth trying if you can!
For More Info |
Check out the range of colours via the Japanese website HERE
|