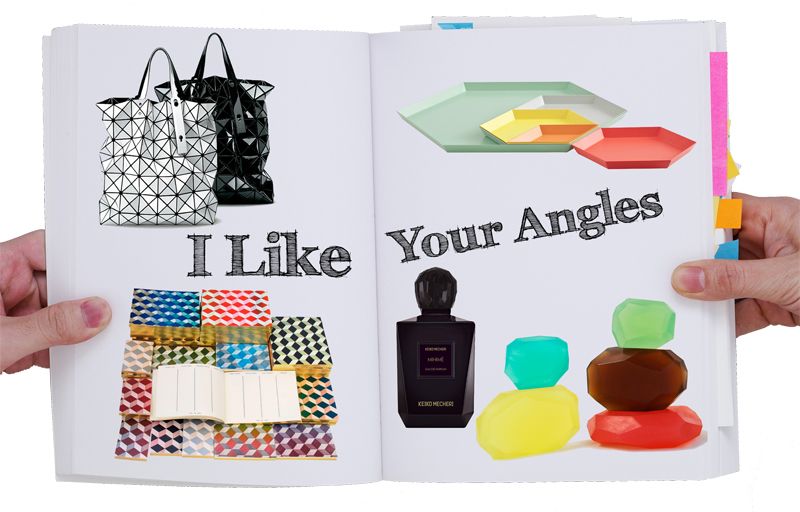 >> The Notebooks & Diaries: Silk screen printed notebooks (so each one is unique) inspired by French Antiques of 18th century

made by Astier de Villatte to mimic the tiled floors of old manor houses. Available in vibrant tones, graphic black and whites or subtle pastels from Twentytwentyone and Choosing Keeping in UK
>> The Totes: I have been lusting after Issey Miyake's Bao Bao tote for years and years now. They are collapsable and foldable and can be manipulated in such a way that you can create striking shaped bags. Spotted in Selfridges UK and in the
>> The Trays: Shapes to make shapes in a useful way! The Kaleido trays are a colourful creation of Clara von Zweigbergk. They come ins 4 different sizes and host of different colours. Available in Twentytwentyone and Skandium in UK
>> The Soaps: Faceted bars of fragrant translucence. These lathering jewels caught my eye when I last visited the Conran Shop. Made by husband and wife team Jean and Oliver Pelle for Pelle Soaps.
>> The Parfum: I like the silhouette that this bottle casts and the way it seems to absorb light. The fragrance is called Mihime and is a floral layering

of Japanese cherry blossom, chypre, rose, ylang ylang and narcissus. Created by Keiko Mecherie. Available in UK at Liberty.
LINKS |
Astier de Villatte
| Pelle Designs | Keiko Mecherie | Liberty | Skandium | Choosing Keeping | Twentytwentyone | Selfridges | Issey Miyake |